Las Cruces Public Schools will be accepting applications for Advanced Pre-K until May 31, 2023. The LCPS slots for Advanced Pre-K are tuition free. Upon acceptance to the program, the child must turn five between September 1, and November 30, 2023. Students must show characteristics of advanced learning based on verbal and non-verbal learning during a screening in June.
The Las Cruces Public Schools Advanced Pre-K classroom is designed to serve students who do not meet the age requirements to start kindergarten and exhibit characteristics of advanced learning, as measured by screenings.
The program is a collaboration between New Mexico State University (NMSU) and Las Cruces Public School (LCPS) and serves as a lab school for NMSU early childhood programs. Six slots in the program are reserved for children of NMSU students and staff.
The foundation of the Pre-K for Advanced Learners classroom is rooted in the seminal work of Dr. Lev Vygotsky. At the core of Vygotsky's theory is the idea that child development is the result of interactions between children and their social environment. These interactions involve people—parents and teachers, playmates and schoolmates, brothers and sisters. They also involve cultural artifacts, such as books or toys, as well as culturally specific practices in which a child engages in the classroom, at home, or on the playground. Children are active partners in all of these interactions, constructing knowledge, skills, and attitudes, not just mirroring the world around them.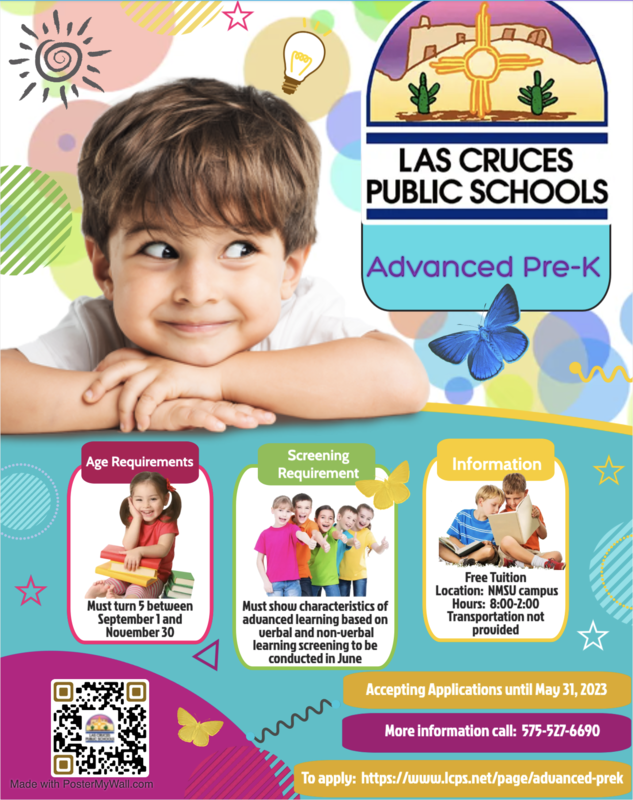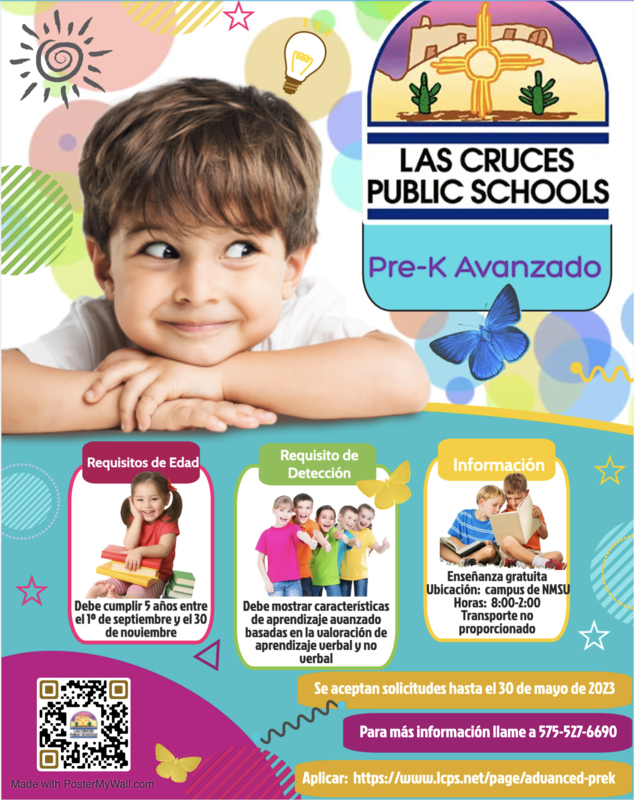 General Information
Location: Myrna Children's Village at NMSU 4101 Sam Steel Way, Las Cruces, NM 88003
Transportation: Parents must be able to transport their child to and from the Children's Village Pre-K classroom at NMSU. Transportation is not provided.
Capacity: There are 16 slots available in the program and can be admitted through LCPS or NMSU.
Admission Criteria

LCPS Slots

NMSU Slots

Age Requirements

Must turn 5 between Sept. 1 and Nov. 30

Must turn 5 between Sept. 1 and March 31

Screening

Must show characteristics of advanced learning based on verbal and non-verbal learning

Tuition

Free

Sliding scale based on income

For more information or to schedule a screening

Application to schedule a screening: https://forms.gle/E3Kenj1tKayY7dMP8

NMSU School for Young Children

(575) 646-7933
***